ABOUT CANCERIQ
Let's end cancer as we know it.
CancerIQ makes it possible for providers to connect all patients to the latest innovations in cancer prevention, early detection, and treatment. Join our team – we're hiring!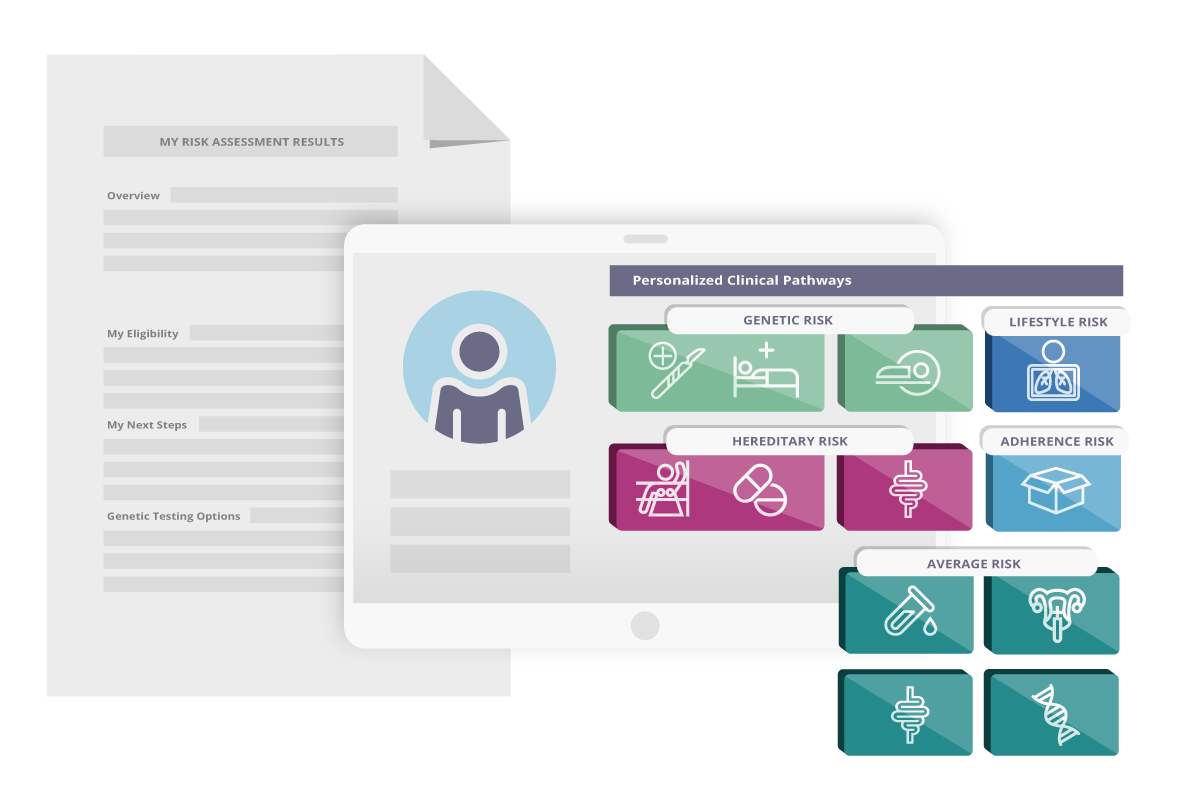 THE PROBLEM
Cancer is being diagnosed at earlier ages and in later stages
AN ALL TOO COMMON SCENARIO
A woman who comes in every year for her mammogram fills out an intake form to provide the health system with her family history. A few weeks later, she receives a letter in the mail saying that her lifetime breast cancer risk is above 20% — a number that she perceives to be low and does not act on even though the Tyrer-Cuzick model recommends that women above that threshold receive additional care such as a breast MRI.

Years later, the woman is diagnosed with late-stage breast cancer. It turns out she was a carrier of the BRCA genetic mutation, meaning she faced a significantly higher risk of a breast cancer diagnosis than the average woman. The diagnosis disrupts her long-term health and wellbeing, forcing invasive surgeries and/or aggressive treatments with a long list of side effects. It also disrupts her work, family, and social relationships and has significant financial consequences. Most of all, it leaves her asking a simple but difficult question: "Why didn't anyone catch this sooner?"
THE CHALLENGE
Most healthcare systems currently take a one-size-fits-all approach to cancer prevention and early detection.
We are living in an era of tremendous progress against cancer. From immunotherapy to multicancer early detection tests, we've never had better tools to fight disease. But persistent disparities in cancer outcomes suggest we could apply these tools more effectively. This is bad for patient care — and it is bad for business.

THE SOLUTION
CancerIQ's software and services make a more precise approach to screening and risk-reduction a reality for any clinical setting.
We're bringing risk assessment and precision prevention services to where patients are and supporting providers so they can offer hyperpersonal care for their entire patient population. Everyone in the healthcare ecosystem has a role to play in making the life-changing benefits of personalized prevention possible.
Read more
WHO WE ARE
Our Leadership Team
We're a team of passionate individuals from diverse backgrounds that is dedicated to helping patients access the information they need to lower their cancer risk.
WHAT WE DO
CancerIQ is a digital healthcare technology platform that helps hospitals and providers scale their high risk program through workflow optimization, automation of tasks, and continuous process improvement through metrics and analytic updates. CancerIQ gathers comprehensive patient data and triages patients into different risk tiers based on the latest evidence based guidelines like NCCN and Tyrer-Cuzick. CancerIQ also helps streamline the genetic counseling and testing process by automatically generating pedigrees, providing a marketplace where providers can order from any testing vendor they choose, creates personalized care plans for patients based on testing results, and automatically generates all supporting documentation for the provider like insurance pre-authorization and clinic and progress notes. Finally, CancerIQ helps hospitals and providers manage all of the patients in their high risk clinic over time, sending alerts to patients and providers when care management, like Breast MRIs or colonoscopies, are due and includes educational content for patients to increase uptake and adherence. CancerIQ is currently implemented in over 200 clinic locations in a variety of clinical and patient population settings across the country.
Keep in touch
CancerIQ is proud to offer precision prevention news and learning opportunities to our clinical champion community. You don't have to be our customer to take advantage – subscribe to receive the content you care about.